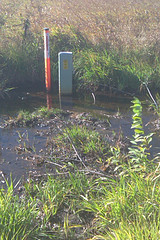 As a fiber technician you always have to be on your best game constantly evaluating the task at hand. Sometimes the obvious solution is not always the best solution.
At times engineering firms may route a cable through what I call a field "anomaly". In this case the anomaly was a water hazard. The cable pedestal was place smack-dab in the middle of a permanent ground spring.
Geographic Location:
Above the 39th parallel
Work to be preform:
Open cable and install grounds
Situation:
Water around pedestal rises above the ring cut's height from the ground 10 months out of the year.
A little background – on many US FTTH projects there are no splice cases installed but rather a pedestal is set and the cable is prepped directly into the mounting hardware of the unit.
In most cases the cable's ring cuts are just above ground level. Say 6 inches. It is also common practice to open the fiber cable jacket and ground both cables even though there is no splicing to take place at the location.
This serves 2 purpose's, grounding the sheath and access to locate wire for locating the buried fiber optic cables (BFO).
Solution:
Do nothing but stencil the pedestal.
Conclusion:
Opening the fiber cable at this location accomplishes one thing real well. It allows a path for water to enter the cable!
Water entering any fiber cables lifetime is bad but water getting into a cable where the chance of it freezing solid is real is extremely catastrophic. A few expansions and contraction events and the fiber transport tubes will shrink.
This causes the fiber inside to "bunch", causing macro bends which induces signal loss and in many cases catastrophic damage.
aside: The engineering firm should have caught this. Problem solved before it began.
Many of your customers rely on your expertise to give them a well built network. Use your head in the beginning and they will thank you for it later.
Fiber plant has a life expectancy of 25+ years but this can only be attained if the thinking is sharp and the workmanship is top quality.
Related posts: